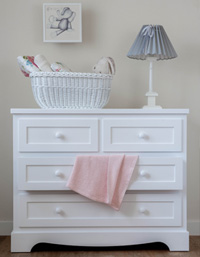 We are furniture makers who have been on the market for over 30 years. All our products are made 100% of a natural material, namely wood. Any wood enthusiast knows that wood is an excellent material, second to none. After years of extensive use, wooden furniture can still be easily renovated.

We specialize in the production of exclusive furniture for children and teenagers. We also offer tables, chairs, chests of drawers, cabinets, wardrobes, beds. We manufacture Scandinavian, modern and classic style furniture. Our products include oil furniture, stain-wood furniture, waxed furniture as well as furniture finished with eco-friendly water-based stains and varnishes.

All our furniture sports a timeless design and functionality. Our quality based on apply technologies that have been tested for years, together with perfect craftsmanship and great attention to detail result in products well-known on the demanding English and German markets, and also on our home market in Poland.

We make all our furniture of standard dimensions but we also work to individual commission to create bespoke furniture painted in the colours chosen by you from the NCS coulour chart. We offer expert help and advice on how to choose your furniture and how to arrange it. We deliver furniture to the address provided by the client.